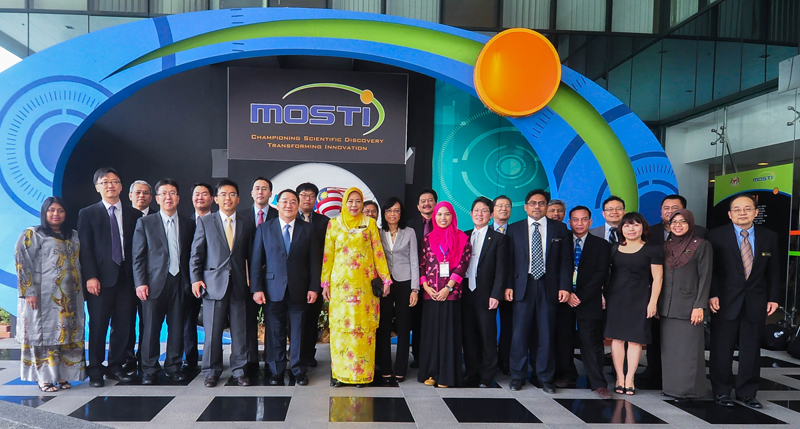 PUTRAJAYA, 17 APRIL 2013 – A foreign delegation comprising of seventeen senior officials from the Republic of Korea, Vietnam and Indonesia paid a courtesy call on YBhg. Dato' Dr. Madinah Mohamad, Secretary General of MOSTI earlier today.

Led by Mr. Yeong Cheol Seok, Vice President of Korean Institute for Advancement of Technology (KIAT), the delegation are in Malaysia to attend the Korea-ASEAN Research and Development Network Cooperation Forum that was held yesterday at Istana Hotel, Kuala Lumpur.

During the meeting, the delegation was briefed by Mr. Ho Koon Seng, Undersecretary of MOSTI's International Division on the Ministry's organisation and its key roles in transforming Malaysia into a developed nation by the year 2020. This was followed by a short discussion which focused on the role and functions of the National Science Research Council (NSRC) and the R&D focus areas namely Biodiversity, Cyber Security, Energy Security, Environment and Climate Change, Food Security, Medical and Healthcare, Plantation Crops, Transportation and Urbanisation and Water Security.

Also in attendance at the courtesy call were Mr. Kamel Mohamad, Senior Undersecretary of Planning Division, Dr. Masuri Othman, Director of Commercialization Department, Mr. Chong Poon Chai, Undersecretary of Sea to Space Division, Dr. Abdul Rahim Ahmad, Undersecretary of ICT Policy Division, Prof. Dato' Dr. Jamil Maah, Undersecretary of Biotechnology Division, Mrs. Azizah Ariffin, Undersecretary of S&T Services Division and Mr. Abang Othman Abang Yusof, Deputy Undersecretary of Industry Division.