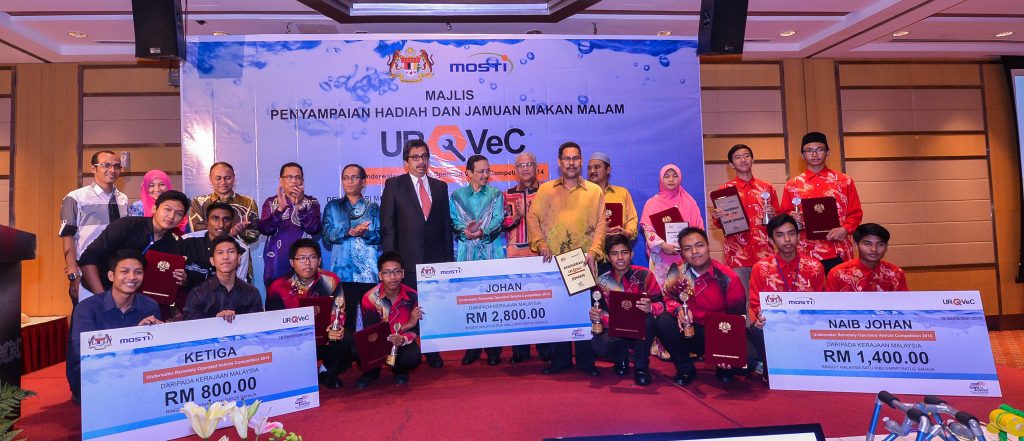 Kuala Lumpur, 18 September 2014 – Berpaksikan kepada matlamat menggalakkan pelajar sekolah untuk menceburi bidang kejuruteraan sains marin terutamanya dalam teknologi robot dalam air, Kementerian Sains, Teknologi dan Inovasi (MOSTI) bersama Kementerian Pendidikan Malaysia, The Royal Institution of Naval Architects and Institute of Marine Engineering, Science and Technology (RINA IMarEST), Universiti Sains Malaysia, Universiti Malaysia Terengganu, Universiti Teknikal Malaysia Melaka, Universiti Malaysia Sarawak dan pihak industri iaitu Technip Geoproduction (M) Sdn. Bhd. telah meneruskan momentumnya menganjurkan  pertandingan  merekacipta robot ringkas di dalam air – Underwater Remotely Operated Vehicle 2014 (UROVeC'14) bertempat di INTAN Bukit Kiara.
UROVeC'14 yang berlangsung pada 17 dan 18 September 2014, merupakan penganjuran kali ketiga pertandingan seumpama ini bagi mengetengahkan bakat dan minat pelajar Sekolah Menengah Teknik dan Kolej Vokasional dalam bidang pembinaan ROV. Dalam pertandingan ini, pelajar-pelajar sekolah didedahkan kepada pemahaman dan aplikasi teori dalam bidang kejuruteraan marin khusus dalam pembangunan  teknologi robot dalam air (ROV – Remotely Operated Vehicle).
Penyertaan bagi UROVeC'14 menyaksikan peningkatan kepada 24 pasukan berbanding 13 pasukan dan 17 pasukan bagi tahun 2010 dan 2013 masing-masing. Perkembangan positif ini merupakan kayu ukur yang mengesahkan bahawa aktiviti yang dirancang melalui Program ini telah berjaya memupuk minat kumpulan sasar yang dinyatakan. Kejayaan ini akan dijadikan inspirasi kepada MOSTI untuk lebih proaktif  di dalam aktiviti seumpamanya di tahun-tahun mendatang dengan mempelbagaikan kumpulan sasar serta merangka halatuju pertandingan ke peringkat serantau serta antarabangsa.
Dalam ucapannya, YB. Datuk Dr. Abu Bakar bin Mohamad Diah, Timbalan Menteri MOSTI berkata, "Usaha sama strategik dengan menggalakkan pelajar sekolah menceburi bidang kejuruteraan sains marin terutamanya dalam teknologi ROV di bawah air dapat meningkatkan lagi kecenderungan para pelajar untuk meneruskan pengajian dalam bidang kejuruteraan khususnya sains marin ke peringkat yang lebih tinggi. Ini adalah selaras dengan Teras Strategik Kelima dalam Dasar Sains, Teknologi dan Inovasi Nasional (DSTIN) iaitu 'Menggalak dan Memupuk Kesedaran Sains, Teknologi dan Inovasi (STI)' di semua peringkat masyarakat.
Juara UROVeC'14 akan membawa pulang RM 2,800 beserta sijil sementara Naib Juara dan Tempat Ketiga akan masing-masing menerima RM 1,400 dan RM 800 beserta sijil.  Juara bagi setiap cabaran turut diberikan plak kemenangan. Hadiah telah disampaikan oleh YB. Timbalan Menteri Sains, Teknologi dan Inovasi (MOSTI).