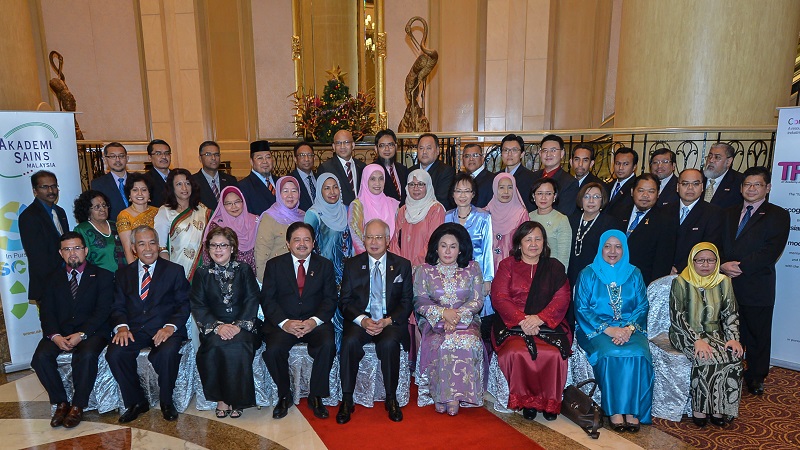 KUALA LUMPUR, 8 Disember 2014 – Akademi Sains Malaysia (ASM) telah mengadakan Penganugerahan Fellowship serta pengumuman '2014 Top Research Scientists of Malaysia' hari ini. YAB Dato 'Sri Mohd Najib telah dianugerahkan Felo Kehormat ASM bagi tahun 2014, bagi mengiktiraf sokongan padu beliau sejak memegang jawatan Perdana Menteri, dalam bidang sains dan teknologi sebagai nadi kepada program transformasi ekonomi. YAB Dato' Sri Najib juga telah menunjukkan tahap kelayakan yang memerlukan pengiktirafan tertinggi oleh golongan saintifik di negara ini.
Di bawah Penganugerahan Fellowship, Fellow Kanan yang dilantik adalah berhak dipanggil sebagai 'ahli akademik' manakala Felo berhak untuk menggunakan gelaran Fellow Akademi Sains Malaysia (FASc) itu. Individu-individu cemerlang dipilih melalui proses pemilihan yang ketat berdasarkan kerja yang luar biasa, komitmen, kesungguhan dan kreativiti mereka dalam salah satu daripada enam bidang, iaitu: Perubatan dan Sains Kesihatan; Kejuruteraan dan Sains Komputer; Biologi, Pertanian dan Sains Alam Sekitar; Matematik, Fizik dan Sains Bumi; Sains Kimia; Sains dan Teknologi Pembangunan dan Industri.
Dua Felo Kanan cemerlang dan 21 Felo diiktiraf tahun ini untuk memberi penghormatan ke atas sumbangan dan kepimpinan mereka dalam bidang masing-masing yang telah berjaya meletakkan Malaysia di barisan hadapan dalam kelompok masyarakat saintifik antarabangsa.
Pengumuman dan penyampaian sijil '2014 Top Research Scientists of Malaysia' telah dilaksanakan oleh YB Datuk Dr Ewon Ebin, Menteri Sains, Teknologi dan Inovasi.