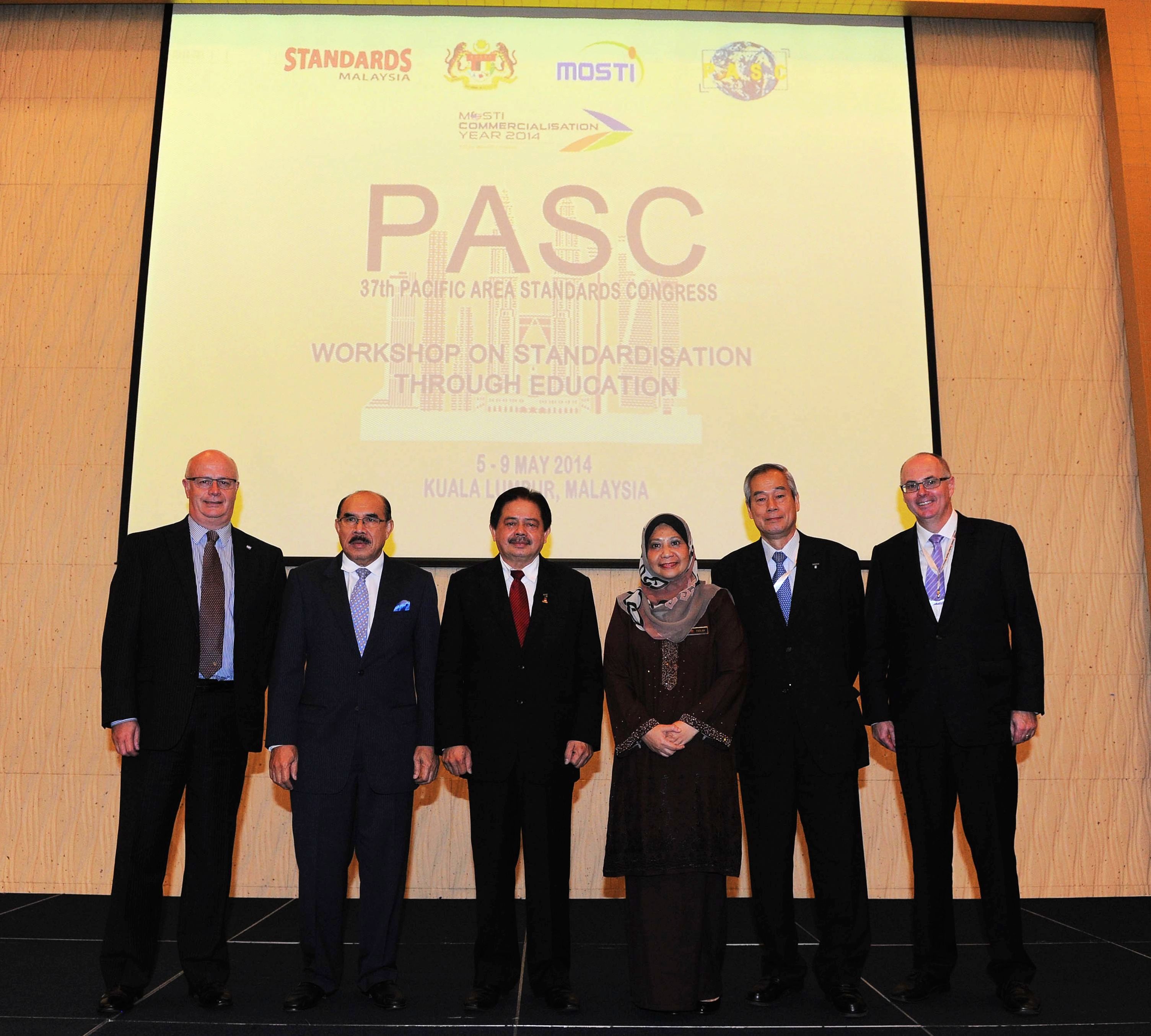 Kuala Lumpur, 5 May 2014 – The Department of Standards Malaysia (DSM) hosts the 37th Pacific Area Standards Congress (PASC) at The Gardens Hotel & Residences, Mid Valley City, Kuala Lumpur from 5 – 9 May 2014. The congress, officiated by YB Datuk Dr. Ewon Ebin, Ministry of Science, Technology & Innovation (MOSTI) in the presence of Madam Fadilah Baharin, Director General of Department of Standards Malaysia (DSM), has had participation from more than 15 CEOs from various national standards bodies and their affiliates across the Pacific Rim. The purpose of this week-long event is to facilitate meaningful and agenda-driven discussions that will help shape the future of PASC member economies.
"In recognising PASC's vision of a region with free trade market integration, we see the role of 'standards and accreditation' as extremely critical towards creating cross-border business opportunities and fostering sustainable growth. The 37th Pacific Area Standards Congress (PASC) Meeting or PASC 37 presents an opportunity for global leaders to deliberate and dialogue on some of the burning issues, challenges and solutions for greater economic and technical cooperation amongst various countries," said Fadilah.
The opening ceremony was attended by relevant dignitaries to include YBhg. Tan Sri Datuk Mustafa Mansur, Chairman of Malaysian Standards and Accreditation Council (MSAC); Mr. Adrian O'Connell, Chairman of Pacific Area Standards Congress Executive Committee; Mr. Rob Steele, Secretary General of International Organization for Standardization (ISO) and Dr. Junji Nomura, President of International Electrotechnical Commission (IEC).
The theme for PASC 37 is Creating Quality Culture in Standardisation through Eduction. To date, some of the universities in the world have started to standards education e.g. Université de Genève has offered Master in Standardisation, Social Regulation and Sustainable Development; while in Trisakti University in Indonesia also launched Masters programme on standardisation. PASC was previously held in Hawaii, US in 2013 and Korea in 2012.
"Believing education as the key mechanism to delevop quality-conscious society, by doing this, the demand for quality products and services will be increased and created market forces for the supplier. To strengthen our effort, we organised a workshop on Standards and Education to focus on efforts initiated to introduce standardsation in the institute of Higher Learnings (IHLs) as the launch pad to move forward," shared Fadilah.
"The year 2014 is marked as MOSTI commercialisation year with the theme "Science, Technology and Innovation for Wealth Creation". And, in my view, standardisation complements the commercialisation initiatives helping to promote innovative product developments and global competitiveness. As the apex Ministry, we acknowledge the value of standardisation activities and its positive impact on our economic and societal well-being," said Ewon Ebin.
"I can assure you that my Ministry, through Standards Malaysia, will continue to support international and strategic platforms such as PASC and its greater objective to improve the quality and capacity of standardisation in economies of the region," concluded Ewon Ebin.