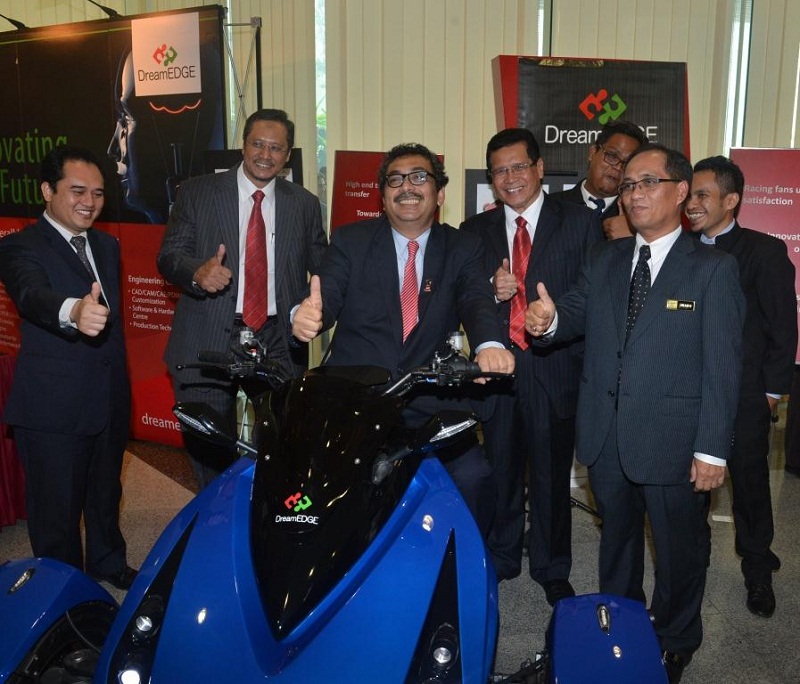 KUALA LUMPUR, APRIL 23, 2014 – Technology Park Malaysia Corporation Sdn Bhd (TPM), Malaysia's leading and premier technology park and incubator, has today launched its virtual entrepreneurship programme known as the Incubator Virtualisation Model (IVM) to facilitate the creation of new entrepreneurs.
The TPM initiative is the first business model of its kind in Malaysia that enables strategic collaboration on virtual services for technopreneurs to garner the advice of an incubator without actually being located at the incubator's premise. This model offers inclusive entrepreneurship programme without being limited to geographical location.
MOSTI deputy minister, Datuk Dr. Abu Bakar Mohamad Diah, who officially unveiled the IVM, also launched the commercialisation of three new products by TPM incubatees as a part of the MOSTI Commercialistion Year 2014 programme.
The three newly commercialised products were Evenesis – VenueVille: Your Ideal Venue Deal Maker developed by Y Us Sdn Bhd; Mobile Business Apps by SME Cloud Sdn Bhd and GuruBestari Apps by Akriz Sdn Bhd.
The deputy minister also witnessed the signing of a Memorandum of Understanding between TPM and DreamEDGE Sdn Bhd, a Malaysian design and engineering services company specialising in digital design and engineering services.
Considered as a Tier 2 company with major customers, including Asia's top carmakers, DreamEDGE has grown from less than 10-man operations to over 200 engineers at the end of last year, with successful market presence regionally and in Japan.
Speaking at the launch ceremony, TPM President and Chief Executive Officer, Dato' Hj. Azman Hj. Shahidin said the IVM was targeted at the Gen Y community, researchers and new start-upsthat enable them to access the full range of virtual business services and programmes from the ideation stage to the final stage of commercialisation.
He said the IVM pilot programme began in December 2012 and was offered to the public in June last year. Since then, it has shown a positive off take with the registration of 25 new incubatees.
"We are confident that the IVM programmes, which are cost-efficient and affordable, will be the most effective solutions for new start-up companies and individuals who are initially constrained by limited capital investment.
"This new model suits those technopreneurs who need the relevant support services that an incubator offers but still want to maintain their own offices or work from home.
"With the launch of IVM, we are hopeful of assisting in the creation of some hundred entrepreneurs and technopreneurs in the industry clusters of ICT, biotechnology and life sciences, advanced engineering and renewable energy over the next three years," added Azman.
The IVM programme incorporates two services; Integrated Business Solutions (IBS) and Business Network Knowledge Exchange (BNEX), which are specifically designed and customised to provide digital entrepreneurs the competitive edge required in today's dynamic global business environment.
Azman said that by implementing the IVM, it will further enhance the visibility of TPM beyond the bricks and mortar as a truly enabler of technology and innovation towards creating national wealth through science, technology and innovation.
"With the advent of IVM, digital entrepreneurs will be able to exponentially grow their businesses by capitalising and leveraging on the available resources, thus, focusing on the more crucial aspect of their business development activities.
"Digital entrepreneurs need not re-invent the wheel of business but merely integrate and adapt accordingly and at an instant gain access to the practical and advanced business tools and competencies at their fingertips. The steep learning curve would be a strategic advantage for the digital entrepreneurs and will maximise their business opportunities," he added.
The IVM offerings are available in two packages: Virtual Office and Virtual Support Service, which are priced at a monthly charge of RM295.00 and RM135.00, respectively.
The Virtual Office package includes prestigious address as their business correspondence, mail and parcel management, sms or email notification, local fax number which is able to receive and transmit fax, hot-desking/workstation, and meeting room usage.
Meanwhile, the Virtual Support Service offers a comprehensive and integrated incubation programme adopting handholding approach via online coaching, mentoring, training and consultancy. It encompasses the entire support services from infrastructure, business and technical skills, access to funding, to technology and to market, and intellectual property registration.
The IVM, which was initiated by MSC Malaysia in 2012, is an international trend and practice that was deliberated and endorsed at APEC SME Working Group, ASEAN SME Working Group which is widely recommended and practiced by the World Bank, the Incubation Practitioner. In Malaysia, it has been endorsed by the National Incubation Committee, which is chaired by the Secretary-General of MOSTI, as the way forward for incubation services.
Technology Park Malaysia Sdn Bhd, an agency of MOSTI, has an integrated infrastructure, facilities and support services to assist technopreneurs and entrepreneurs who are keen to commercialize their ideas in the four industry clusters, namely, ICT, Engineering, Biotechnology and Green Technology.